Our mission is study, promote and preserve the urban art as well as speed it to the society by means of actions of urban creativity. The urban creativity is a new model of union between the art and the city, where the work adapts to the needs of the space and of the people of an integral and organic way.
This allow us take part of way contextualize to the spaces dilapidated for the neighbours. The improvement involves to address not only the problems of sustainability or mobility but also in incorporating the art and the culture as a elements transformers and of change to our society.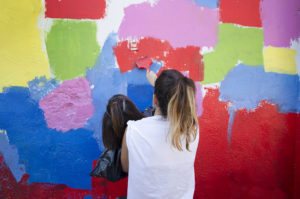 The promotion and the study of the creativity and of the urban art is our priority. Develop projects to size for city councils, educational centres or companies interested in the intervention comunitària and commissioner of the public space.
112 Murals
1200 Participants
24 Entities
3 Publications
3 collective Expositions
170 Artists
More than  

4000 m2

 painted
CITY
Have to learn to see the art like a tool for the solution of the problems of our city and incorporate it as a apartat of new processes of change. The art is an engine of change and of social improvement.
PEOPLE
To the work in the public space, the objective is to take into account the addressee of our actions to the people. It is essential to arrive to our public with actions that impactin really in their day to day and that they are a thrilling and durable experience.
CULTURE
Want to approach the culture to the people that form part once month of the urban landscape. It is very important for us propose new models of management of the public space.